Compact rooms call for clever ideas to maximize their potential, both in terms of practicality and style, and furniture designed to be flexible in a tiny interior is worth its weight in gold. Solutions are available to suit all budgets and range from built-in benches with underseat storage to neatly proportioned antiques and contemporary classics. And more and more companies are considering small spaces in their latest products — Heal's and Ikea are just two of the retail chains with furniture lines designed specifically for spatially challenged interiors. Check out these ideas to boost your sense of space and enjoy increasing the potential of your compact home.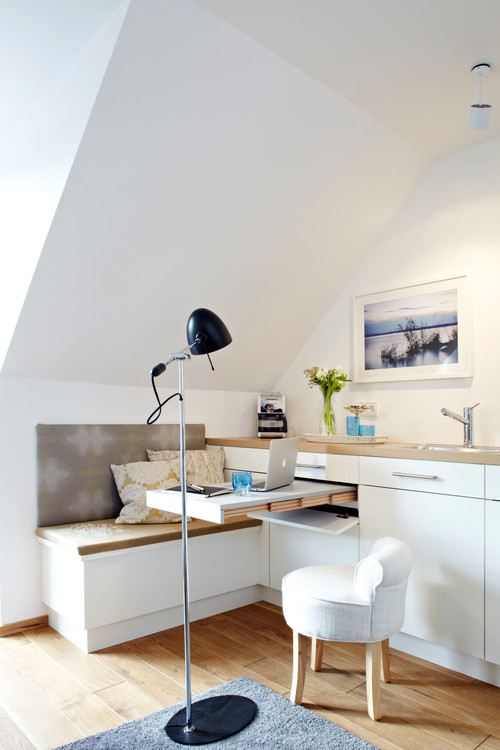 1. Tuck away an undercounter table
Laptops are now commonplace in our lives, with more and more of us using them as the primary computer. For small interiors, where a kitchen or dining room has to double up as a workspace, consider a pullout, breakfast-bar-style table built into a kitchen unit. This can be used for eating at and working on, then can be easily slid back into place when not in use.
If you're planning a new kitchen, look for companies that factor something like this into their designs. Alternatively, commission a carpenter to customize an existing cupboard to make space for one.
2. Make the most of vertical space with bunks
Bunk beds are a classic small-space solution and ideal for children's rooms, where they provide a platform for adventure games, too. Source a ready-made piece or have a carpenter custom build something, allowing you to fully embrace the proportions of your room.
If the space is particularly wide, then longer bunks are great for sharing, top-to-toe style, when friends come to stay. Natural wood is a classic material and ideal for adding an authentic cabin feel. Accessorize with bedding in nautical shades of blue and white, and don't forget the ladder for clambering up to the top bunk.